Current courses
To constantly impart advanced professional knowledge and improve the skills of the professionals engaged in the materials management function in organizations IIMM Kolkata is conducting the following courses.
Placement Assistence
Some of the most renowned corporations in India are hiring our students after successful completion of their courses in the field of Materials, Logistics & Supply chain Management.





Events / Conferences
IIMM Kolkata regularly host several events on Industrial Seminars and Conferences to impart latest and advanced knowledge for our students to make them industry ready.
Testimonials
IIMM Kolkata Branch has always been bestowed by some eminent corporate professionals helming Supply Chain and Logistics Management divisons in some reknowned organizations across the country. Few of our honorable flagbearer's feedback here.

IIMM Kolkata is launching it's website.This is wonderful news not only for the Kolkata branch members but for the entire fraternity of supply chain professional in the country...
Mr. Asok Dasagupta ** Past National President-IIMM

Myself , Mr Sajal Das presently working for Linde India Limited as DMG -Procurement is a pass out from this reputed Institute...
Mr. Sajal Das, ** DMG Procurement (Linde India)

I am a Logistics Professional with 20+ years of experience in Supply Chain and Express Logistics...
Mr. Kaushik Mukherjee ** AGM-Sales (DTDC)

Competing the today's global market company's requirement has been changed...
Mr. Suranjan Mukherjee** Shapoorji Palonji

As a professional of 55 years' experience having had the opportunity to work for Multinational Organisations both in India and abroad in different position starting as an Assistant Buyer rose to Buyer, Material Management...
IIMM ** Past Chairman
IIMM Kolkata Latest News
Take a look at our News Section to get to know about all important activities happening at the Kolkata Branch.
Chairman's Message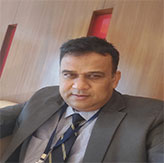 Koushik Roy
Chairman - IIMM Kolkata
Dear All,
Hearty wishes and Greetings from your beloved IIMM Kolkata !
Our Executive Committee has been re-constituted in the last AGM held on September 11, 2021. We are planning to resume regular activities, as usual, as restriction for pandemic has already been relaxed to some extent. Being the newly elected Chairman, this is my 1st communication to the SCM Fraternity and members of IIMM Kolkata. I am always available to the cause of IIMM and feel free to contact me at chairmaniimmcal@gmail.com(e-mail address) or Mobile No. 9830088052.More
Contact Us
For Career advancement in Logistics, Store Maintenance, Purchase, Supply Chain & E-commerce Industries contact Indian Institute of Materials Management Kolkata Branch Office now.
Address
8B, Short Street, Kolkata - 700017
Your message has been sent. Thank you!